WWWW (Who We've Worked With):

Chaka Khan, Run DMC, Placido Domingo Jr., Ben Stiller, Frank McCourt, F. Murray Abraham, Ruben Blades, Peter Gallagher, Jerry Stiller, Ossie Davis, Colin Quinn, BD Wong, Nora Dunne, Lisa Edelstein (House), Joe Franklin, Pat Cooper, Al Martino, Conan O'Brian, Stephen Colbert, Ed Lover, Big Pun, Big Daddy Cane, Doug E. Fresh, Angela Bofill, Jane Monheit, Ben E. King, Sandra St. Victor, The Cadillacs, Gary US Bonds, Chuck Jackson, Bucky Pizzarelli, Mo Rocca, KidPro Productions (Rosie O'Donnell), Michael Kantor, Valerie Smaldone, Pia Linstrom, NBC, HBO, Showtime, MTV, VH1, PBS, Court TV, Comedy Central, Lifetime, Michael Kay, John Sterling, MSG, Turner, NY Yankees, NY Knicks, NY Liberty, Bulls, Lakers, Broncos, Rangers, Mets, Foot Locker, Anacin, Xerox, Coke, Sprite, Nintendo, Sega, Okidata, SFX Entertainment, Sony, EMI, Polygram, Warner Chappell, Golden Books, American Music Company, Theatreworks, CCNY, Michael Feinstein, Sheldon Harnick, John Kander, Tom Jones, Martin Charnin, David Zippel, Ernest Harburg, David Shiner, Alice Ripley, John Cullum, Faith Prince, Annie Golden, Marilyn Michaels, Brian D'arcy James, Ann Hampton Callaway, Isabel Leonard, Marni Nixon, Penny Fuller, Helen Gallagher, Anita Gillette, Karen Akers, Louise Pitre, Karen Mason, Judy Kaye, Christine Pedi, Rebecca Luker, Ron Bohmer, Jason Graae, Ann Harada, Laura Osnes, Cheyenne Jackson, Todd Almond, Erik Altemus, Natasha Williams, Howard McGillin, Heather MacRae, Robert Cuccioli, Brian Gari, Daphne Rubin-Vega, Daniel Reichard, Timothy Shew, Peter Davis, Cheryl Stern, Debbie Gravitte, Julia Murney, Chip Zien, Liz Larsen, Tony Roberts, Daniel Reichard, Martin Vidnovic, Liz Callaway, Karen Ziemba, Rachel York, Mario Cantone, Rupert Holmes, Mary Testa, Paul Shaffer, Jill Eikenberry & Michael Tucker, Colleen Zenk, Stephanie D'Abruzzo, Lillias White, Craig Safan (Cheers), Eric Michael Gillett, Robin Skye, Marc Kudisch, Audrey Lavine, James Naughton, J.K. Simmons, Jerry Lanning, Norm Lewis, Darius De Haas, Marla Schaffel, Kathy "Babe" Robinson, Shoshanna Bean, Kerry Butler, Kevin Hale, Deven May, Anastasia Barzee, Keith Buterbaugh, Raymond Mcleod, Peter Hans Benson, Mary Faber, Nikki Snelson, Julie Garnye, Orfeh, Andy Karl, Rachel Flynn, Carter Calvert, Catherine Carpenter-Cox, Annaleigh Ashford, Nicolette Hart, Jenn Colella, Jill Abromovitz, Carole Shelley, Billy Stritch, Alix Korey, Ernestine Jackson, Sean Mcdermott, Eddie Korbich, William Michals, Michael Winther, Sal Viviano, Lynne Wintersteller, Mandy Patinkin, Tom Hewitt, Adam Heller, Don Mayo, Jerry Dixon, Gavin Creel, Miles Phillips, John Znidarsic, Natalie Douglas, Jennifer Sheehan, Julia Knitel, Jack Donahue, Carole Bufford, Amy London, Ellen Harvey, Lisa Brescia, Annie Hughes, Donna English, Mark McVey, Erin Davie, Sarah Rice, Nancy Opel, David Cryer, Bill Parry, Mark Pinter, Deena Kaye, Mercedes Hall, Diane McAfee, Julie Reyburn, Steve Ross, Brad Ross, Barry Levitt, Glen Roven, Gary Haas, Billy Graves, Bobby Peako, Randy Redd & David Pittu, Bill Stanley, Bill Reed, Phil Hall, Barry Kleinbort, Ken Bloom, Don Rebic, Alex Rybeck, Barbara Maier Gustern, Joe Klein, Peter Howard, Timothy Graphenreed, Chris Damboise, Michael Larsen, Ken Lundie, Steven Silverstein, Fred Werner, Michael Lavine, Paul Trueblood, Frank Owens, Russ Kassoff, Mike Renzi, Donny McCaslin, Larry Hochman, Jeff Harris, Seth Rudetsky, Matt Eisenstein, William Wade, John Wallowitch, Jeff Harnar, Sandi Durell, Linda Bianchi, Joe Thalken, Beth Falcone, Jason Michael Webb, Paul Johnson, Randy Klein, Craig Baldwin, David Lewis, Ricky Pope, Rolf Barnes, Don Rebic, John Glaudini, Kevin Stites, Paul Katz, Bob Goldstone, Ken Gould, Larry O'Keefe, Justin Paul, Nell Benjamin, Mark Hollman, Paul Gordon, Ben Toth, Marcy Heisler & Zina Goldrich, Jimmy Roberts, Doug Cohen, Tom Toce, Marissa Mulder, Bill Solly, Gary Portnoy, Ray Roderick, Stephen Bates, Michael Brennan, Barbara Anselmi, Michael Colby, Ned Ferguson, Phillip Katz, Judd Woldinn, Marc Eliot, Ray Leslee, Ann Phillips, Greg Pliska, Jack Urbont, Tom Mills, Neil Berg, Lawrence Rush, James Sampliner, George Kramer, Jim Simmelman, Charles Bloom, Bill Goldstein, Mark Janas, Michael Rice, Dan Whitman, Kristopher McDowell, Marc Goodman, Thom West, Carl Danielson, Bob Goldstone, Peter Yarrin, Joy Son, Jana Zielonka, Doug Silver, Norman Noll, Varla Jean Merman, Jeff Biering, Jason Wynn, Doug Friedman, Steve Potfora, David Brunetti, Larry Yurman, Bill Zeffiro, Paul Greenwood, Gerard Allesandrini, Fred Barton, Jeff Caldwell, David Caldwell, Fred Wells, Phillip George, Gillian Berkowitz, Bertilla Baker, Allison Briner, Capathia Jenkins, Andre Ward, Jason Ma, Lewis Cleale, Bob Stillman, Trent Kendall, Aisha De Haas, Lindsay Mendez, Morgan Karr, Patty Murin, Nancy Johnston, Jason Paige, Paige Price, Van Hughes, Michael Lanning, Matt Castle, Lauren Molina, Steven Jamail, Michael Pemberton, Robert Vest, Ron Spivak, Matt Bogart, Becca Ayers, Gregg Edleman, Autumn Hurlbert, Kimberly Immanuel, Herndon Lackey, Miguel Cervantes, Kevin Pariseau, Farah Alvin, Sally Wilfert, Elizabeth Saunders, Christina Bianco, Deborah Tobias, Kate Wetherhead, Dillon McCartney, David Josefsberg, Kirsten Scott, Kirsten Wyatt, Asa Somers, Samantha Bruce, Nathan Goodrich, Jeremiah James, Jillian Louis, Marty Thomas, Brynn Williams, James T Lane, Grasan Kingsberry, Andrew Keenan-Bolger, Rob McClure, Ben Jacoby, Ryan Vandemboom, Joshua Henry, Mykal Kilgore, Lance Rubin, Deena Levy, DeQuina Moore, Marianne Hu, Jen Cody, Michelle Sweeting, Seth Bisen-Hersh, Jodi Moccia, Karen Olivo, John Lloyd Young, Matt Benett, Ritt Henn, Sean Barrett, Saadi Zain, Cadden Jones, Catherine Jones, Spencer Plachy, Shana Farr, Nancy Magarill, Amanda Kravat, Jenny Bruce,
Diana Phelan, Jelani Alladin, Arlo Hill, Sarah Ellis, Samantha Williams and MORE !!
---
| | |
| --- | --- |
| | |
Background
Millrose Music began as River View Music in 1988. We became Millrose Music in 1993. Since 2009 we've been working out of 31 Union Square West/ 16th st (next to Dylan's Candy).

We specialize in audio recording and production using MOTU's Digital Performer. We've worked with many high profile performers, directors, composers, producers and companies over the years and are known for our NO ego/NO attitude disposition and laid back working environment. It's all about service.

Click Here For Map

The Neighborhood
Hey, it's Union Square! We're only two blocks from Whole Foods and Trader Joe's, one block from The Green Market and right next to Union Square Cafe and Coffee Shop. There's even a Starbucks downstairs.


More Info...
One of our specialties is piano/vocal demos for the musical theatre/cabaret community (see client list). With an engineer who has produced, performed and composed music commercially/full-time for over twenty years, the sensitivity to an artist's musical and emotional needs is unparalleled at Millrose Music. We have a 6'1" YAMAHA C3 grand piano in impeccable shape that records like a bell.


Vocal Demo (Male)
MP3 - 4.3 MB

Performed by Michael Winther
© 2000 Millrose/Colby (recorded using a Kawai upright)

Vocal Demo (Female)
MP3 - 2.8 MB

Performed by Alix Korey
© 2000 Millrose/Colby (recorded using a Kawai Upright)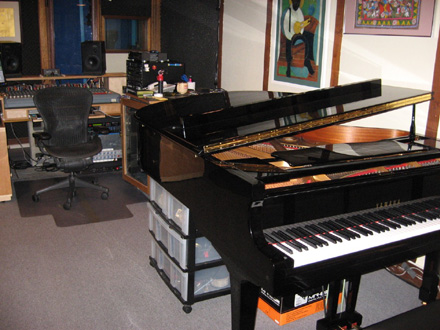 Piano Recording Sample

Mendelssohn - Song Without Words
MP3 File - 2.2 MB

James Besser, pianist
(jamesbesser@yahoo.com)

Recorded at Millrose Music, NYC - December 17, 2006


---

Another one of our specialties is Voiceover Tape production. For over two-and-a-half years we produced tapes exclusively for voiceover coach Marla Kirban (Voiceover agent at ICM-L.A.& Charles Rosen Casting-N.Y.), one of the city's best. Marla has coached the biggest celebrities on both coasts. The VO demo tapes Kirban/Millrose have produced have helped sign literally dozens of actors to major agencies.

WORK SAMPLES



So when you're ready to record, give us a call. Hey, even if you're not ready and just have a question or two, GIVE US A CALL!

Best Regards,

Peter Millrose
Millrose Music
(212) 496-0444



---
Pay me securely with any major credit card through PayPal!
---
The Basics
MAC Dual Quad 2.8ghz/ 11 gig RAM

MOTU 2408s

PreSonus Pre Amps

Digital Performer 6

Audiodyne Monitors

Glyph Drives (RAID)

Alesis Sub-Mixer

6 X 6 Double Wall Iso Booth A

4 X 4 Single Wall Iso Booth B

Microboards 10CD Burner

YAMAHA C3 GRAND

MIDI Gear
Kurzweill Controller

Gigastudio / PC

Proteus 2000

Korg 05RW

Roland S550

Proteus II

Kurzweill Micro Piano


Outboard
Furman HR6 Headphone Distribution System

Mics
Neumann TLM-103

AKG414 (2)

AKG 214

AKGC535 (5)

AT 4022 (2)

Shure SM57

Shure SM58

AT Pro37

Audix D4

Misc.
Over 10,000 SFX

Stock Music Libraries

Drum Loops